Word Processing (5N1358)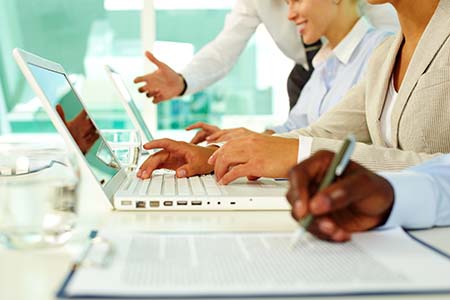 The purpose of this award is to ensure that the learner is fully capable of using a broad range of word processing features to work effectively and produce clear printouts. On successful completion of the course the learner will be able to: use the ribbon/toolbars, create and format documents, use correct page setup/print procedures, use proofing tools, apply correct file management features, use tables, use mail merge for letters/labels and use appropriate word processing application features.
"It is a very good course as I expected and I would recommend the course to anybody" – Rocio
Learning Outcomes
Learners will be able to:
Describe a typical word processing application in terms of common uses and features including - text manipulation, document formatting, graphics, tabs, tables, mail merge and label printing
Identify frequently-used toolbar icons and related functions associated with file handling and text formatting
Create documents applying a range of text processing features including - margins and line spacing, indenting text and paragraphs, borders and shading, numbering and bullets, copying and pasting text, enhancing text
Perform initial document configuration using page setup features to include - headers and footers, page numbering, paper size and orientation
Use a range of proofing tools including - spell check, thesaurus, search and replace
Apply file management facilities, including - creating files and folders, saving files in different formats, copying files an folders, renaming files, accessing file details, finding files using search facility
Apply a range of table features including - creating tables, resizing, merging cells, inserting or deleting columns and rows, aligning text, applying borders and shading to tables and sorting table content
Create mailmerge and labels
Use markup capabilities to make track changes to documents
Produce a range of different types of documents using common word processing features including - manual text formatting, applying styles, creating tables, inserting and manipulating graphics
Print mailable documents and labels using a range of print features, to include - print preview, single and multiple copies, printing specific pages, selecting parameters and adjusting the appearance and positioning of text and graphics
Use a word processing application to create a file from a document template by performing all required steps including creating and storing the template, entering data, and printing and storing the file appropriately for subsequent retrieval
Improve personal performance by using additional resources such as the help facility to solve familiar and unfamiliar word processing problems.
Programme Details
Award Title: Word Processing (5N1358)


Duration: 150 Hrs of with 50 are direct learning, and 100 self directed


Entry Requirements: QQI Level 4 certificate, Leaving certificate or equivalent qualifications and/or relevant life and work experiences


Award Type: Minor Award


Framework Level: NFQ Level 5


Awarding Body: QQI (Quality and Qualifications Ireland)


Assessment:

Collection of work
Assignment
Examination



Protection for Learners:
As a part of best practice to safeguard the interests of learners enrolled for programmes exceeding three months and in line with the regulatory/statutory requirements of QQI and the 'Qualifications and Quality Assurance (Education and Training) Act 2012'.
NCU Training has arranged comprehensive cover by a Learner Protection Policy, Number
LPI-00098-PHIS with O'Driscoll O'Neil underwritten by Hiscox Insurance Company Limited, June 2018.
The purpose of this policy is to ensure that learners are protected in the event of the unexpected cessation of any training programme in NCU Training provided, and/or organised and/or sub-contracted training.
Evidence to confirm implementation of the NCU Training Protection for Learners Policy includes:



A statement of arrangements for Protection for Learners in programme information for relevant programmes of over three months' duration.
Fee refund documentation, where it applies.
Learner transfer documentation, in the event of the unexpected cessation of programmes



Complaints Procedure:
It is your right as a client of our service to make a complaint if you feel your experience with us falls short of what you expected. We want the process to be easy, effective and fair. If you would like to make a complaint, you can either call us on 01-8479463 or email us directly at complaints@ncultd.ie
Price and next starting date.
Price: €250 (Excluding Certification Fee)
Funding: A range of training courses are available with NCU Training which are free to unemployed persons. The first step is to contact your local Employment Services Office to register and apply for training.
View Upcoming Courses for next starting date