Spreadsheet Methods (5N1977)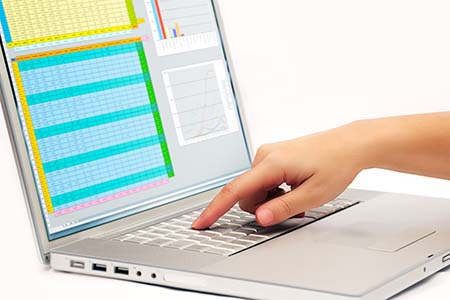 The purpose of this award is to ensure that the learner is fully capable of using a broad range of advanced spreadsheets features to work efffectively and produce clear printouts. On successful completion of this course the learner will be able to carry out advanced selection, formatting,charts, tables, formulae usage, macro production and design of dynamic spreadsheets.
"I was expecting spreadsheet methods to be somewhat difficult but to my surprise it was easy to understand and enjoyable to learn" - Ciara
Course content
modules
Investigate a range of common uses for spreadsheets
Explore key spreadsheet elements including cells, cell references, numeric, alpha, and alphanumeric data, formulae, functions, graphs and macros
Demonstrate common spreadsheet usability features to include use of toolbars, window management, sorting, and filtering
Use spreadsheet design features involving data and cell formatting techniques which enhance understanding and legibility
Automate routine multi-step tasks through the creation, execution, and management of simple macros
Print complete or partial sections of a spreadsheet, formatted fit for presentation
Use advanced spreadsheet features including absolute and relative cell references, conditional IF statements, statistical, financial, and date and time functions
Generate a variety of types of graphs, with appropriate titles and labels, from spreadsheet data
Produce a spreadsheet, with minimal supervision, that meets a simple design specification and is fit for purpose
Demonstrate personal initiative and resourcefulness in editing and amending spreadsheets to ensure they are fit for purpose.
Programme details
Award Title: Spreadsheet Methods (5N1977)


Duration: 150 of which 50 hours directed and 100 hours self-directed


Entry requirements: QQI Level 4 certificate, Leaving certificate or equivalent qualifications and/or relevant life and work experiences


Award Type: Minor Award


Framework Level: NFQ Level 5


Awarding Body: QQI (Quality and Qualifications Ireland)


Assessment:

Project
Examination



Protection for learners:NCU Training is one of only seven fully bonded and insured ICPA (Irish Course Providers Association) member training providers in Ireland. If you train with us your course is fully insured for refund of all fees in case of disruptions. *This is only available on courses of three months in Duration


Complaints procedure:It is your right as a client of our service to make a complaint if you feel your experience with us falls short of what you expected. We want the process to be easy, effective and fair. If you would like to make a complaint you can either call us on 01-8479463 or email us directly at complaints@ncultd.ie
Price and next starting date.