Care Support (5N0758)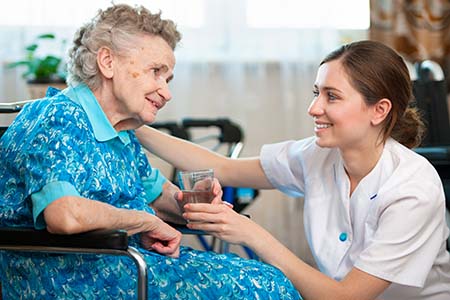 This course is about learning and understanding the skills needed to provide client care in a variety of settings from hospital to community care. This course is the ideal starting point in learning care support skills as it outlines the various stages and roles skills needed. Initially it describes how to evaluate carer/client relationships and reflection and development of themselves working with others (multi disciplinary teams). This part - time single module programme, successful completition of which leads to QQI level 5 component 5N0758, can be used as a component in QQI level 5 Major Award - Health Service Skills The course evolves to look at the importance of daily living activities as described by Rogan, Logan and Tierney and the carer's role in delivering and evaluating the client in relation to ADLS (Activities Of Daily Living). The course looks at the ethical and legal issues encountered in care work and the importance of compliance with same.
"The tutor was very good and easy to listen to, content was simple and easy to understand" – Aoife
Learning Outcomes
Learners will be able to:
Discuss the roles, responsibilities and entitlements of a care worker
Examine the role of a care worker within the multidisciplinary healthcare team
Demonstrate the ability to plan and provide enhanced quality care
Apply knowledge gained to plan and meet the needs of the individual client
Explore the need for personal planning and growth
Plan strategies to improve own personal development
Reflect on personal effectiveness as a care worker to include own strengths and weaknesses
Reflect on relationships with clients, relatives and multidisciplinary team members and interpersonal issues that arise in care work.
Programme Details
Award Title: Care Support (5N0758)


Duration: 150 hours of which 50 are directed learning and 100 are self directed learning.


Entry Requirements: Candidates should hold a Leaving Certificate or relevant qualifications and / or relevant life and work experiences. Participants must speak and work in English at a standard appropriate to the course content.


Award Type: Minor Award


Framework Level: NFQ Level 5


Awarding Body: QQI (Quality and Qualifications Ireland)


Assessment:

Learner record
Written Assignment



Protection for Learners:
As a part of best practice to safeguard the interests of learners enrolled for programmes exceeding three months and in line with the regulatory/statutory requirements of QQI and the 'Qualifications and Quality Assurance (Education and Training) Act 2012'.
NCU Training has arranged comprehensive cover by a Learner Protection Policy, Number
LPI-00098-PHIS with O'Driscoll O'Neil underwritten by Hiscox Insurance Company Limited, June 2018.
The purpose of this policy is to ensure that learners are protected in the event of the unexpected cessation of any training programme in NCU Training provided, and/or organised and/or sub-contracted training.
Evidence to confirm implementation of the NCU Training Protection for Learners Policy includes:



A statement of arrangements for Protection for Learners in programme information for relevant programmes of over three months' duration.
Fee refund documentation, where it applies.
Learner transfer documentation, in the event of the unexpected cessation of programmes



Complaints Procedure:
It is your right as a client of our service to make a complaint if you feel your experience with us falls short of what you expected. We want the process to be easy, effective and fair. If you would like to make a complaint, you can either call us on 01-8479463 or email us directly at complaints@ncultd.ie
Price and next starting date.
Price:€250 (Excluding Certification Fee)
Funding: A range of training courses are available with NCU Training which are free to unemployed persons. The first step is to contact your local Employment Services Office to register and apply for training.
View Upcoming Courses for next starting date